Christophe Winckel appointed as Director of Mezzo

Category
Archives Lagardère Active
Paris, October 14, 2009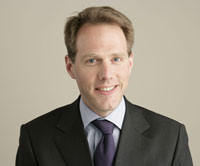 Emmanuelle Guilbart Vice President Television France and International of Lagardère Active, announces the appointment of Christophe Winckel as Director of Mezzo, in replacement of Philip De La Croix, who has left the group. Christophe will step in on November 2nd 2009. He will be in charge of Mezzo, with a special goal: developing partnerships in France and abroad, as well as overseeing all innovative projects, such as VOD, 16/9 and HD.
Born in 1972, Christophe Winckel graduated from the Ecole Supérieure de Commerce de Tours (ESCEM), and began his career in 1995 in the classical record industry. He was employed as Product Manager at Warner Classics (Erato, Teldec…) then as Marketing Manager of the Opus 111 label. In 2000, he became Advertising Director of Le Monde de la Musique, and was subsequently appointed Musical Advertising Director of Radio Classique. In 2005, he was active in the launch of Radio Classique's new format. In early 2007, he was then appointed Director of Development of Radio Classique, in charge of musical radio partnerships and licences (compilations). In 2009, within the framework of Les Echos media group and Express Roularta partnership, he launched Classica magazine, a merger of Le Monde de la Musique and Classica-Repertoire, with Bertrand Dermoncourt as Editor-in-chief.
Press Contacts Lagardère Active :
Press Contacts Mezzo :
More about Mezzo:
Mezzo stands as a global reference for classical music and jazz television. The network expands over 7 time zones and brings together more than 16 million home subscribers, in 39 countries. It is part of Lagardère Active, in partnership with France Televisions, and is available on cable and Canalsat.
Email alert
To receive institutional press releases from the Lagardère group, please complete the following fields:
Register