Boursier.com (Newsweb) offers free, real-time access to share prices


Category
Archives Lagardère Active
Paris, January 27, 2009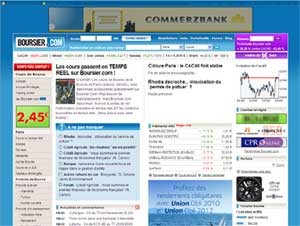 Boursier.com, the #1 source of market information for 10 years and the leading provider of financial news feeds, will begin offering real-time access to share prices on the Paris Bourse.
Along with this ground-breaking step of relaying prices on the Bourse to a wide audience free of charge, Boursier.com is announcing a host of innovations on the site:
Share prices before the market opens: do you want to know the trading range for a given stock before the market opens? Using a special algorithm, Boursier.com can now calculate the projected price range for any share in the deferred settlement system. This exclusive information is available on trading days between 8:00 am and 9:00 am, via a special chart and on the stock quote pages.
Share prices after the market closes: similarly, Boursier.com now offers an exclusive run-down of price swings after trading has ended for the day on Euronext Paris. Between 5:30 pm and 10:00 pm, visitors to Boursier.com can go directly to a particular stock's page to look up its estimated trading range since the Bourse closed. That's handy when, for example, you want to know how earnings announcements are being viewed by the market!
Market derivatives: Boursier.com now lists all trading products quoted on Euronext Paris, as part of a new feature that's been completely redesigned according to the user's interest: speculation or investment. For each of the thousands of products listed, Boursier.com provides visitors with information on its degree of risk, its potential and the particular market scenario for which the product is appropriate.
Since 1998, Boursier.com has emerged as France's undisputed #2 website devoted to the markets, with over 1.8 million unique visitors (source: Nielsen/NetRatings, October 2008).
Says Christophe Champredonde, Director of Boursier.com, "These new features help cement Boursier.com's status as an innovative site that's attentive to the needs of web users and investors alike.
The debut of real-time share prices is a significant step forward. Just a little over 20 years ago, stock prices were only available in print, and real-time information could only be had on the floor of the Paris Stock Exchange. Fifteen years ago users had to have a Minitel terminal. Up until very recently, only online brokers displayed share prices in real time. It was important for Boursier.com to position itself in that niche, which represents the future standard for market-related sites that appeal to a wide audience. At the same time, we're pleased to announce the debut of a new feature devoted to market products. Beginning in 1999 with the first search engines for selecting warrants, and then the first engines for choosing certificates in 2004, Bouriser.com has always been ahead of its time in providing detailed information on derivative products."
Email alert
To receive institutional press releases from the Lagardère group, please complete the following fields:
Register