Be reveals its new look


Category
Archives Lagardère Active
Paris, October 3, 2012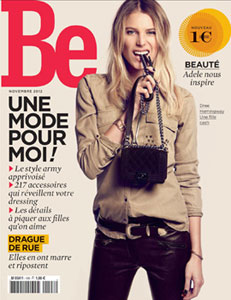 As announced in June, Be, Lagardère Active's generational women's brand, has revamped its magazine with a more high-end editorial concept reflected in a completely redesigned layout and new publication frequency.
Be Monthly is a new gathering spot for the Be community of young working women who live in urban areas and connect online, a community that has been continually growing for more than two years. The new Be magazine will maintain the relationship it has forged with these women, which is characterized by mutual understanding, a bold outlook and shared experiences that will always play a central role at the magazine.
Be Monthly is unabashedly upscale and chic, and always edgy. Continually a trendsetter, Be is devoting more space to fashion and beauty. Images and photos take centre stage, in line with the magazine's uncluttered layout, which provides a more pronounced identity for each section. Offering tips, analyses, surveys and lifestyle advice in its 250 pages, Be targets a whole generation of thirty-somethings with an offbeat, novel tone.
Be Monthly will be available at newsstands tomorrow. In addition to its small format, which is a perfect fit for on-the-go readers, the magazine will also be sold in a large format that showcases its upscale character and is designed for more leisurely reading.
The be.com website is also changing, with the addition of a social shopping platform that is slated for expansion, with the final launch scheduled for March.
The first issue of Be Monthly is already an advertising success, with more than 74 pages sold.
Be, a global media brand:
The www.be.com website brings together a very active community of some 250,000 members and has become trendier than ever. The site is maintained by a team of be.com bloggers and fashion editors, who are always on the lookout for any hint of new trends. It receives some 670,000 unique visits each month (source: Nielsen January-July 2012). The site has been enhanced with an e-shopping service, offering Be's fashion sense with just one click.
Applications:
– Be Mag (iPhone/iPad), which has exceeded 176,000 downloads. This enhanced version of the magazine is successful and will soon be expanded (source: iTunesConnect).
– Be (iPhone) has achieved nearly 160,000 downloads (source: iTunesConnect).
Be's Facebook page has over 100,000 fans.
New video content goes behind the scenes at the magazine (accessible using a flashcode from the magazine or directly via be.com ).
To view the commercial produced by Havas Worldwide Paris, please click here (downloading takes a few seconds):
Email alert
To receive institutional press releases from the Lagardère group, please complete the following fields:
Register