Appointment to Mezzo

Category
Archives Lagardère Active
Paris, July 3, 2007
Philip de la Croix, Director of the Music Channel Mezzo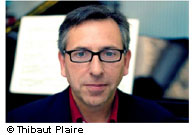 The Chairman and Chief Executive Officer of Mezzo TV, Christophe Sabot, has appointed Philip de la Croix to the position of Director of the classical music and jazz channel Mezzo.
Philip de la Croix, 49, is a journalist, music critic, writer and lecturer. After studies in philosophy and musicology, he began his career in 1981 with the radios libres (free radio) movement. He then worked for a number of radio stations (including France Inter, France Musique and Europe1) before becoming a reporter for the print press (Le Monde, Aden and Le Journal du Dimanche). As an editorial and artistic adviser, he collaborated with the Muzzik channel, and then with Mezzo when it was founded in 1995.
In addition to his other duties, he will conduct a series of interviews with artists like Natalie Dessay, Roberto Alagna and Jordi Savall.
From 1990 to 1996, de la Croix also directed the ECM New Series record label, and in 2002 founded Festival America, an American literature festival, as well as the Prima la Musica! concert series in 2004. He was awarded the title of Chevalier des Arts et Lettres by the French government.
Press contacts
Maud Aumis - Tel.: +33 (0)1 56 36 51 11 - Fax: +33 (0)1 56 36 51 09 - E-mail: Maud.aumis@mezzo.fr
28, rue François 1er - 75 008 Paris
Email alert
To receive institutional press releases from the Lagardère group, please complete the following fields:
Register