Appointment of Regis Le Sommier as Deputy Editorial Director at Paris Match

Category
Archives Lagardère Active
Paris, January 26, 2009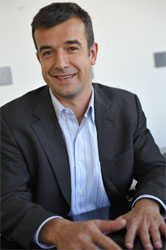 Olivier Royant, Editorial Director at Paris Match, announces the appointment of Régis Le Sommier to the position of Deputy Editorial Director at Paris Match. He previously served as a senior reporter and New York bureau chief.
He assumed his current responsibilities on 7 January of this year.
Régis Le Sommier, age 40.
A graduate of the Institut d'Etudes Politiques in Lyon and previously a senior reporter for Paris Match, serving as New York bureau chief from 2003 to 2009, Le Sommier has covered a number of major crises including the Bali terrorist attack in 2002, the SARS epidemic in China in 2003, the Casablanca bombings and Hurricane Katrina in New Orleans in 2005.

Email alert
To receive institutional press releases from the Lagardère group, please complete the following fields:
Register