1973-2013: Le Guide du Routard celebrates its 40th birthday
Category
Lagardère Publishing
Paris, January 31, 2013
And the world is still your oyster!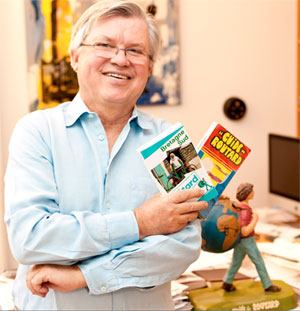 With over 40 million guidebooks sold in its 40-year history, it's fair to say that Le Guide du Routard's performance has been a phenomenal, unprecedented achievement! Its offbeat style and infallible frankness and honesty have made this travel-guide collection one of France's great success stories. A copy is sold every four seconds.
Originally aimed at a readership of young people with little money, it has become the traveller's bible. A trend here, a point there: that's all it takes. Like its creator, Philippe Gloaguen, millions of Le Guide du Routard fans look out for the best places to go, follow the top tips and wise advice and track down some great ideas. "I didn't invent anything," the founder is keen to point out. "I just had the right idea at the right time. It's not me who's the star – it's Le Guide du Routard!"
Philippe Gloaguen takes us behind the scenes of his business and shares some of its production secrets to coincide with the release of Le Plan Parfait, a film whose hero, played by Dany Boon, is a writer for the guide.
Routard.com: a resounding success
The website routard.com has continued to grow since its 2001 launch. Its strengths include maps that are never out-of-date, practical tips and up-to-the-minute information. The site offers a new kind of trip planning for its increasing visitor numbers. Some of the most loyal routardnatics have even become experts in their own right! In the forums, correspondent Séba-Vadrouille has shared over 3,000 pieces of valuable advice on Asia, while US fan Mayannick has already posted over 6,000 messages and correspondent Fecampois has published over 60 reviews in the Hotels section.
Routard.com is:
An A-to-Z travel guide: from the Alps to Zanzibar, from selecting a destination to booking your trip.
The biggest French-speaking community for travellers, with 2.3 million unique visitors to the site every month (source: Nielsen/Mediametrie/Netrating).
Over 3 million anecdotes, photos, adventures and tips shared.
Over 140,000 photos posted.
2 million messages exchanged in the forums.
35 million page views every month.
200 destinations described.
What goes without saying goes even better when you say it!
"Travelling is about looking at how you think and make judgements; it's about learning to see things differently, not just elsewhere but at home, too. So don't judge things too quickly – that's how racism starts. Accept difference. When you're in a foreign country, you're the foreigner!"
Philippe Gloaguen
IN BRIEF
Practical tips, getting away from it all, curiosity, new discoveries, meeting, understanding, culture, good food, charm, falling in love with something, conviviality…
A FEW FIGURES
No. 1 on the tourist-guide market.
In September 2012, the Ipsos poll published in Livres Hebdo ranked 11 Le Guide du Routard publications in the Top 15 best-selling tourist guides.
Since its inception, over 100 million French people have read a Guide du Routard publication.
Almost 150 guides in the collection in 2013.
Over 110,000 places listed and checked.
Each guide takes a year to produce.
Some 30,000 letters and 10,000 e-mails are sent in by readers every year.
40 years in 10 dates
1973: Philippe Gloaguen puts forward a proposal for the first Le Guide du Routard volume to various publishers. It's rejected by 19 publishing houses, but a tiny publisher (Gedalge) accepts it. Then the head of the firm is run over by a bus! Bankruptcy follows.
1980: The Guide du Routard collection reaches the 100,000-copy yardstick for 10 titles.
1985: Publication of the Paris guide – an immediate bestseller, with 75,000 copies sold in France.
1992: Guides on the French regions are followed by the first publication of French Hotels and Restaurants (230,000 copies sold).
2000: TV series "Let's Go To…" broadcast on France 2.
2001: Creation of the Routard.com portal.
2003: Le Guide du Routard celebrates its 30th birthday. Following an invitation to tender, the French Ministry of Education commissions Le Guide du Routard to publish a guide to active citizenship, "distributed free of charge to secondary schools and community organizations." Print run: 1.2 million copies.
2006: Philippe Gloaguen's biography, Une vie de Routard.
2012: Release of the film Un Plan Parfait with Dany Boon, who plays a Guide du Routard writer.
2013: We celebrate our 40th birthday!
Writing Le Guide du Routard: it's all about the legwork…
Email alert
To receive institutional press releases from the Lagardère group, please complete the following fields:
Register