CÉCILE DURAND-GIRARD
Head of Institutional Relations and Regulatory Affairs
in Lagardère Active's Radio and TV business
 

 

WOMEN'S ROLE IN THE MEDIA: MAJOR EFFORTS IN THE RADIO AND TV BUSINESS

Lagardère Active's Radio and TV business is strongly committed to giving women greater exposure, and applies the recent CSA directive recommending that broadcasters measure and increase the on-air presence of women. The CSA also expects a qualitative assessment of content, with the help of analysis schedules prepared with the Council for Equal Opportunities for Men and Women, regarding the presence or absence of stereotypes.

In the last few months of 2015, Europe 1 prepared detailed statistics on the large number of people contributing on-air to its programmes (journalists, presenters, commentators, experts, politicians and other guests). The results confirm that Europe 1's management is committed to giving airtime to talented female experts.

Gulli also quantified and assessed the presence of women and female characters in its animated series and programmes for children and families. It found that Gulli's heroines are usually brave, ambitious and active, rather than hysterical, chatty and ultra-stylish. These very positive results support the direction taken by Gulli's editorial executives.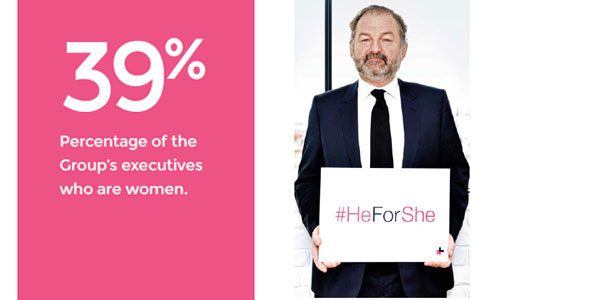 Denis Olivennes, Chairman of Lagardère Active, supports UN Women's #HeForShe movement
to promote gender equality.