CHRISTIAN GUET
Deputy Group Human Relations Director,
Chief Human Relations Officer at Lagardère Sports and Entertainment

 

 

ENHANCING OUR DIGITAL SKILLS

For more than 10 years, the Lagardère group's strategy has included support for employees to help them deal with digital developments in their business lines.

That support includes a long-standing partnership with Netexplo, a monitoring firm that specialises in looking at the changing use of new technologies.

Each year, Netexplo monitors innovations in digital usage through an international network of experts and academics, and publishes analysis of how digital technology is affecting businesses.

Lagardère has been involved in Netexplo's development since it was created, and in 2015 it continued the collaboration by helping to put together the Netexplo Academy training programme.

This online training programme features dynamic content and involves tests and videos on digital themes. It helps staff enhance their knowledge about digital content and new technologies.

We started to roll the programme out in late 2015, and all Group staff can access it via Enter, our intranet portal.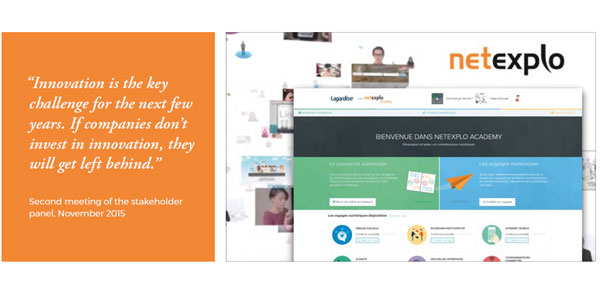 Netexplo Academy: online programme intended to educate staff about
innovation issues and the impact of digital technology.