Aelia Duty Free made in Luton
On April 15th 2016, Lagardère Travel Retail opened a new Aelia Duty-Free walkthrough in London Luton Airport. In our 1,670 sqm store, passengers will have the chance to discover the new Aelia Duty Free retail concept offering international & local brands for a highly multisensorial shopping experience.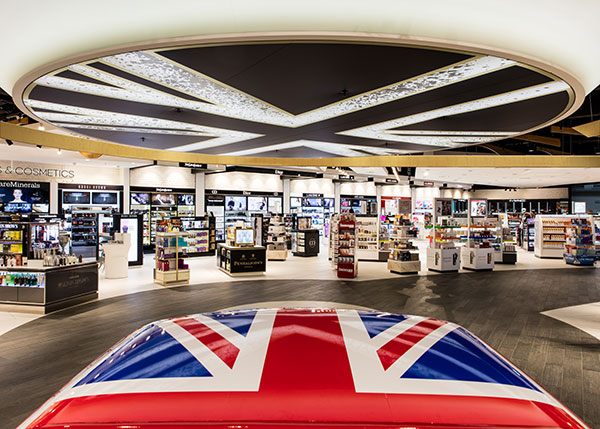 The Aelia Duty Free retail brand relies on 4 key beliefs:

The Art of the Gift: for someone else or for oneself, this is the guiding theme for this new generation of stores. Follow the ribbon, treat yourself with a gift from our gift tower and don't forget your gift wrapping at the gift bar and cash desk.
Facilitation: to make the shopping experience seamless, we pay attention to every detail. Design - LED communications and signage ensures the customer has a clear navigation through the store.
Care: showing utmost consideration to our shoppers through a bespoke « design of service » : service signatures at every main step of the customer path
Here and Nowhere else: a memorable and exclusive experience, created for London Luton Airport. To make this store memorable & unique, Lagardère Travel Retail designed the store with a specific vision in mind. Entitled "it's a London thing", it brings the essence of central London to Luton London Airport.

The "It's a London thing" atmosphere was finalised with our second stage opening on June 22nd 2016.

The store design, developed in collaboration with the renowned design agency Portland, reflects London's diversity, featuring dynamic furniture to reflect the concept. Design flourishes breathe modernity into the store. This open plan store is clearly zoned, and navigation is facilitated with ceiling and floor features.
The store's ambiance captures London's "new luxury" glamour by juxtaposing classically opulent finishes with more everyday materials.

It is also characterised by a joyous, irreverent, playful, dynamic, glamorous, and creative tone with experiential areas that increase passenger engagement:

- The digital information point showcasing a store map that clearly defines the categories and brand locations to assist with passenger navigation.

- The Whisky Studio developed in partnership with Diageo will help customers discover whisky thanks to an interactive distillery, connoisseur or non-connoisseur interactive digital tablet.

- The showcase area, La Scène, a digital, platform that is animated each month by a different brand. For July L'Oréal will bring unique scenography and animation to this space.

- A Tasting Bar at the centre of the store will evolve every month helping brands to bring their products to life. This space will engage passengers with tastings and cocktail events, led by liquor experts.

- The Refresh Pod: a new experience that will provide passengers with a quite space to freshen-up in store.

- Best of London : the centre piece of our concept, featuring iconic London brands Penhaligons, Molton Brown, National Gallery, Rimmel London, Aromatherapy and a Mini Cooper highlighting a different brand every month.


There will also be sensational brand partnerships to celebrate the store opening. Partner brands will include Urban Decay, Molton Brown, Jo Malone, Nuxe, Cadbury, M&Ms, and Lanson Champagne, just to name a few.

The Aelia Duty free retail brand also provides a unique first-class design of service, revolutionary customer service and hospitality. Thanks to our new "click and collect" service, available on our website (www.aeliadutyfree.co.uk ), and "collect on return" available in store, Aelia Duty Free can now deliver qualitative and valued shopping experiences for its customers.

Amaury Dehen - General Director Lagardère Travel retail UK
"I am very proud to be a part of this exceptional new Aelia Duty Free opening at London Luton Airport. As the largest store in Lagardère Travel Retail's global portfolio, we are thrilled to have opened such an inspiring and invigorating retail facility. This, along with the list of impressive new brands and services now available in-store, will continue to enhance the customer shopping experience at London Luton Airport."
Stéphanie Metz-Thevenod - EVP Marketing & Digital
"Aelia Duty Free "Next Generation" has been developed to propose a memorable experience to passengers. Our concept emphasizes the Art of the gift, which is a major motivation to buy in our Duty free stores. We pushed the concept it even further in London Luton by developing uniqueness in the design, new category experiences such our Tasting bar and digital features such as Aelia Duty Free navigation table at the entrance. So follow the ribbon and just enjoy!"

Rupert Lawrie - Commercial Director, London Luton Airport
"It is with great pleasure that we launch the new Aelia Duty Free store, which has bought some new and exciting brands to the airport. The store opening is the first of many at London Luton as we invest £110m to transform the airport experience. The new retail area is central to that transformation, we will more than double the size of our existing space, and we have chosen a zonal approach to ensure we are offering the right mix of brands. We are delighted to welcome all of our new partners and look forward to offering passengers a world class customer experience."