Values
Information circulates at a rapid rate in our society and events quickly disappear off the horizon. It's not always easy to bear in mind that the business world also needs to aim towards consistency over the long term. A company's success is not founded on one-off achievements, but on sustainable viability. This sustainable approach goes beyond simple economic concerns - it draws its strength from identity.
A company differentiates itself by holding to a set of values. These values enable it to assert itself more effectively. Lagardère's values, together with the quality of its corporate culture, rest on two pillars - its rich and varied history and the qualities of the people who embody it, both now and in the past.
Boldness
The Lagardère group has always sought to boldly expand its horizons by investing in new business sectors in which it has acquired both legitimacy and competence. The emergence of the European Aeronautic Defence and Space Company with its first satellites, and more recently, the group's expansion into the sports business and its accelerated Internet strategy illustrate its aptitude for entrepreneurship and diversification.
Boldness at Lagardère is also expressed by the group's capacity to persistently and proactively anticipate strategic challenges for its various business segments and flagship brands.

Creativity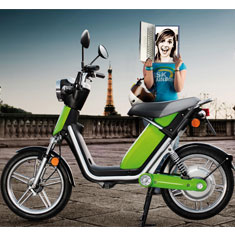 In the constantly changing media world, the capacity for self-renewal through the creation of alternative solutions is a decisive competitive advantage. Creativity is much more than just a recurring theme at Lagardère; it is a daily way of life for the group's employees. Lagardère's products and brands have often been forerunners in their fields. For example, Lagardère Services has been offering HDS Digital customers iPhone magazine download services since 2008, via its innovative digital kiosk. In July 2009, Lagardère subsidiary Matra Manufacturing & Services broke new ground with the launch of its compact electric scooter - the e-MO - targeted at the general public. This pioneering two-wheeled vehicle, which is approved for 14 year-olds and up, is a means of transportation entirely free from CO2 or fine particle emissions.
Independence
As a highly entrepreneurial pure media company, the Lagardère group has always been managed from a long-term perspective and has never indulged in fleeting trends. This approach, combined with the family nature of its capital structure, has made independence a key value for Lagardère. For the group's employees, independence means that their freedom of expression and creation - a fundamental principle for anyone working in the fields of information and communication - has always provided a solid foundation for their professional lives.