CONSTANCE BENQUÉ
Chair of Lagardère News
How did Lagardère News fare in 2021, in view of the health crisis?
Although not as difficult as the year before, 2021 was nonetheless a challenging year for our business and our teams as the crisis impacted our models' regular operations and income streams. Radio audiences were hit hard by the sudden changes in daily routines resulting from home working, bearing in mind that half of radio listening is done outside the home. In addition, the surge in digital had an effect on sales of our print magazines and prompted us to accelerate the development of our digital subscriptions. However, the Elle International network business enjoyed a sustained recovery.
During this uneven period, our advertising revenues swung back to growth, particularly press and digital, with a spectacular jump in revenue for Le Journal du Dimanche, driven by the national daily press segment and its popular opinion pieces.
Unprecedented in its scope and effects, this crisis has accelerated our transformation with the aim of ensuring our sustainability – illustrated by the cost savings plan at Europe 1 – and seizing the opportunity to change our organisational methods by developing home and hybrid working.
Against this backdrop, what is the outlook for 2022?
We are going to support our radio businesses, spearheaded by the planned Europe 1 revamp and the expansion of our production of original podcasts, one of our key strengths. We will also step up our digital strategy with an investment plan to develop the paid digital press subscription offering. These various projects are serving to strengthen a powerful, influential and transformative News unit.
Elle International will continue to unite its media licensing network around common editorial projects and committed initiatives, such as the charter signed in 2021 banning fur from all pages of Elle magazines worldwide. The network will also continue to develop its non-media licensing business with launches in the fields of beauty, fashion, decoration and services.
Our CSR strategy will be among our priorities, with concrete actions to reduce our environmental footprint following our carbon audit, a more responsible purchasing policy with the CSR assessment of all our suppliers and the development of responsible HR practices with priority given to gender equality, organisation and well-being at work. We are also committed to raising employee awareness of these issues so that our media content actively contributes to this transformation.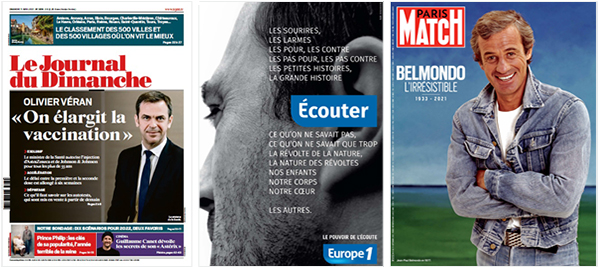 2021 overview
While the health situation affected media audiences, particularly radio, 2021 saw good momentum in print and digital advertising investments, multiple editorial and transformation initiatives as well as a marked turnaround in Elle International's businesses.
Multitude of projects despite a challenging environment
With positive individual circulation and record advertising revenue, Le Journal du Dimanche had an exceptional year with a strong push toward the individual paid digital subscription model, rounded out with new cultural and political newsletters, which is set to intensify in 2022.
Paris Match posted a number of record selling issues – tributes to Prince Philip and Jean-Paul Belmondo – and a rebound in advertising revenue, which were not enough to stabilise the structural erosion of its circulation, however. With its abundant photo catalogue, Paris Match continues to develop its exhibition and syndication businesses, which were very resilient in 2021.
Radio audiences were directly impacted by changing routines in France and reduced mobility, which directly affected the income of stations that depend entirely on advertising. With these changes came an ever greater focus on digital, with Europe 1 reporting a record number of over 162 million podcast downloads in 2021(1) (50% more than in 2020).
At the same time, the resizing of Europe 1's editorial content was launched with the upgrading of the morning show, synergies with the Canal+ group as well as a cost savings and an organisational streamlining plan. In addition, a project to regionalise news output for Virgin Radio and RFM was presented and submitted to the French broadcasting regulator, ARCOM, with implementation targeted for 2022.
(1) Source: Médiamétrie eStat Podcast; year 2021 vs year 2020; cumulative downloads and/or streaming listening sessions.
Initiatives and innovations to build audience loyalty
Despite the crisis, the division's media continued to innovate during the year to remain connected to their audiences with a resumption of concerts organised by music stations such as Electroshock in Marseille (Virgin Radio) and the RFM Music Show planned for the radio's 40th anniversary.
Europe 1 also stepped up its solidarity-based initiatives for young people, the environment and employment, with the promotion of disruptive start-ups and the staging of the sixth annual Europe 1 Trophées de l'Avenir awards. These topics were also celebrated by Paris Match, which launched its first "L'appel de la planète" conference for COP26, and Le Journal du Dimanche, which launched a series of "Demain" conferences, the first of which was dedicated to energy-efficient renovations.
In addition, the talented Lagardère News teams were once again recognised in 2021 with two prizes awarded by the Fondation Varenne to Europe 1 (Young Journalist prize in the radio category for Marion Gauthier) and to Paris Match (special mention by the jury in the national press magazine category for Nicolas Delesalle), the Lauriers de l'Audiovisuel radio programme prize for La voix est livre (Europe 1) and the Club des Directeurs Artistiques Gold prize in the documentary podcasts category for Le son de vie (Europe 1).