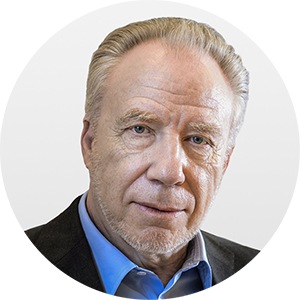 PIERRE LEROY
Chairman and Chief Executive Officer of Hachette Livre
(until 8 November 2023)
What were the key highlights of 2022?
"2022 was a great year for Lagardère Publishing, with strong performances right across the world. While in 2021 we saw exceptional enthusiasm for reading, in 2022 there was a downturn in the book market. Against this backdrop, our results once again illustrate the solidity of our strategy, the talent of our teams and the fact that we have a sound business and cultural model. As a result,
our diverse international model has enabled us to withstand the decline in demand, with the key to our resilience being our exposure to a broad range of markets and business segments.

Our teams adapted remarkably well and confidently weathered the storms of 2022. These included rising costs for paper, printing and freight, pressure on recruitment and salaries and the need to foster teamwork and reinvent office life at a time when remote working is becoming a permanent feature of many employees' daily lives.

Lagardère Publishing continued to grow this year, supported by the acquisition of specialist publishing houses such as Bragelonne in France and Welbeck Publishing Group in the United Kingdom,
as well as expanding in board games with La Boîte de Jeu. Lastly, Lagardère Publishing acquired Paperblanks, the world's second-largest premium stationery brand, thereby continuing the diversification successfully initiated in Partworks and, more recently, in the Board Games segment."
Which major CSR initiatives were rolled out in 2022?
"With the support of the Lagardère group, Hachette Livre implemented its "30/30 strategy", which consists of reducing its global greenhouse gas emissions by 30% by 2030 on Scopes 1, 2 & 3. The main initiatives aim to reduce over-manufacturing through demand planning tools, to limit the impact of environmental freight and supplier carbon intensity by implementing more stringent CSR
selection criteria, and to improve the eco-design of our products.

In 2022, we also launched the Hachette Foundation for Reading. Following a successful first call for projects, the Foundation awarded endowments ranging from €30,000 to €100,000 to support eight initiatives that promote access to reading and help develop it as a recreational activity, aimed at reaching as many people as possible. The Hachette Foundation for Reading is dedicated to encouraging reading, writing and, more generally, language proficiency across every demographic, with particular attention paid to young people and those put off by reading."
What is the outlook for 2023?
"Against the backdrop of strong inflationary pressures and the market downturn in 2022, we are approaching 2023 with caution. On the plus side, we will be publishing a new Asterix album and
pressing ahead with a new round of curriculum reforms in Spain. We will continue to diligently manage our business in order to maintain the operational performance of our business lines while
making the necessary investments to upgrade our logistics and sales tools. Lastly, and in the same spirit of robust and rigorous management, we will move forward with our external growth
strategy, being attentive to any acquisition opportunities in our core publishing business as well as in areas where we may diversify."