Balanced growth in our three business segments - Travel Essentials, Duty Free & Fashion, and Foodservice - confirms the underlying logic of our strategy amid the favourable tailwind of growing air traffic.
Very bright organic growth
Travel Essentials continued to grow, with the rollout of the Relay concept stores in Toulouse, Réunion, Spain (Palma), Italy (Bari, Brindisi, Rome, Florence, Venice), North America and the Pacific (Perth, Sydney, Auckland).
Development through franchises also continued in some areas, including China (Wuhan and elsewhere) and Pakistan (Islamabad). Lagardère Travel Retail also designed the first physical store concept created exclusively for TripAdvisor, opening its first outlets in the United States and Hong Kong.
At the same time, souvenir shops continued their growth under the directly owned Discover brand and through concept stores with a strong local identity (NZ All Blacks in New Zealand and Dutch Discoveries in the Netherlands).
Lastly, the division also won many calls for tender in Spain (Canary Islands), the United States (San Francisco, Dallas-Fort Worth, Cincinnati, Orlando, Sacramento, Salt Lake City), Australia (Sydney), New Zealand (Christchurch, Auckland, Wellington) and Gabon (Libreville). And to top it all off, the renewal of the Eiffel Tower concession (France) has just been confirmed.

Renovations have paid off
In Duty Free & Fashion, Lagardère Travel Retail benefited from the positive impact of renovations on new concepts including BuY Paris Duty Free (launch of the Beauty New Age concept store at Paris-Charles-de-Gaulle) and Aelia Duty Free (Venice, Trieste, Cairns), as well as the successful integration of contracts won in 2017, including Saudi Arabia (Dammam, Riyadh, Jeddah), Dakar (Senegal), Geneva (Switzerland) and Hong Kong.
In Fashion, Lagardère Travel Retail opened The Fashion Place multi-brand stores in Zagreb (Croatia) and Prague (Czech Republic), while growth continued at a rapid pace in China (Shanghai Hongqiao, Beijing and Wuhan) and Hong Kong.
Lastly, new concessions were won in Christchurch (New Zealand) and Libreville (Gabon) in Duty Free, and in Vienna (Austria) and Beijing-Daxing (China) in Fashion.
Significant acceleration
Growth gained pace in Foodservice with the acquisition of HBF and its subsidiary Vino Volo in the United States. In addition, numerous outlets were opened in France (Paris, Nice, Lyon, Toulouse), Italy (Rome, Venice), Spain (Malaga), Poland (Warsaw, Gdansk), the Czech Republic (Prague), Austria (Graz, Salzburg), Romania (Bucharest), the United Arab Emirates (Dubai), China (Shanghai Hongqiao, Beijing, Wuhan), Hong Kong, Australia (Townsville) and the United States (Los Angeles, Dallas-Fort Worth, San Francisco).
And several concessions were won in 2018, including the Netherlands (Smullers), Spain (Malaga) and the United States (San Francisco, Los Angeles, Austin, Dallas, Denver).
Lastly, the year's other major event was the signature of a global partnership with Dean & DeLuca.
BuY Paris Duty Free reinvents beauty at airports
More than just a new concept store, Beauty New Age is the ultimate beauty experience for passengers, thanks to personalised offers and services, exclusive events and expert sales advisors. The new retail space of over 600 sq.m. opened at Paris-Charles-de-Gaulle airport (France) in March 2018 offers clients a simplified, fluid and multi-level experience.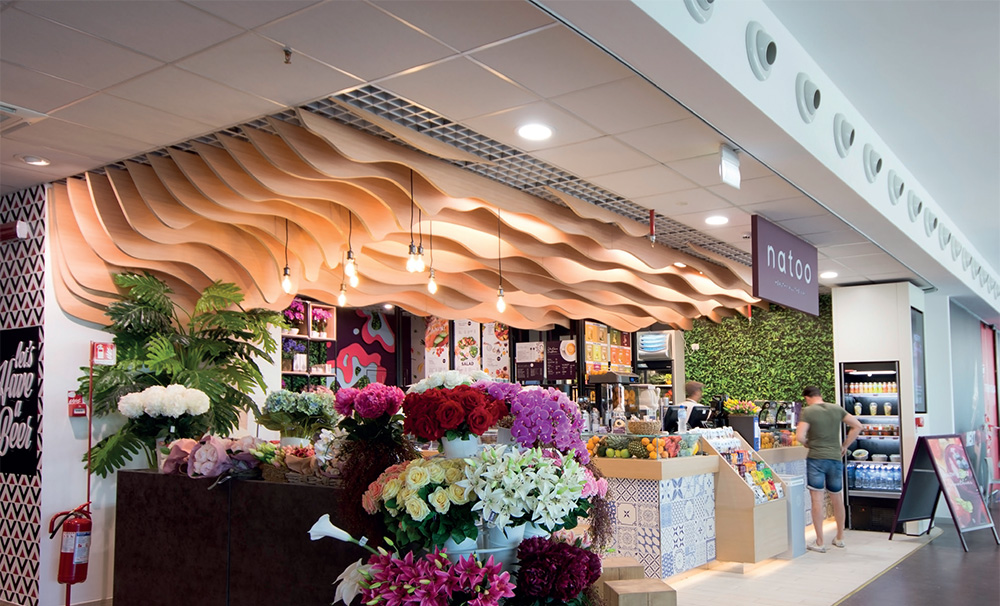 The group's key figures
2018: solid growth illustrated by a strong operating and financial performance.
Publications


All publications