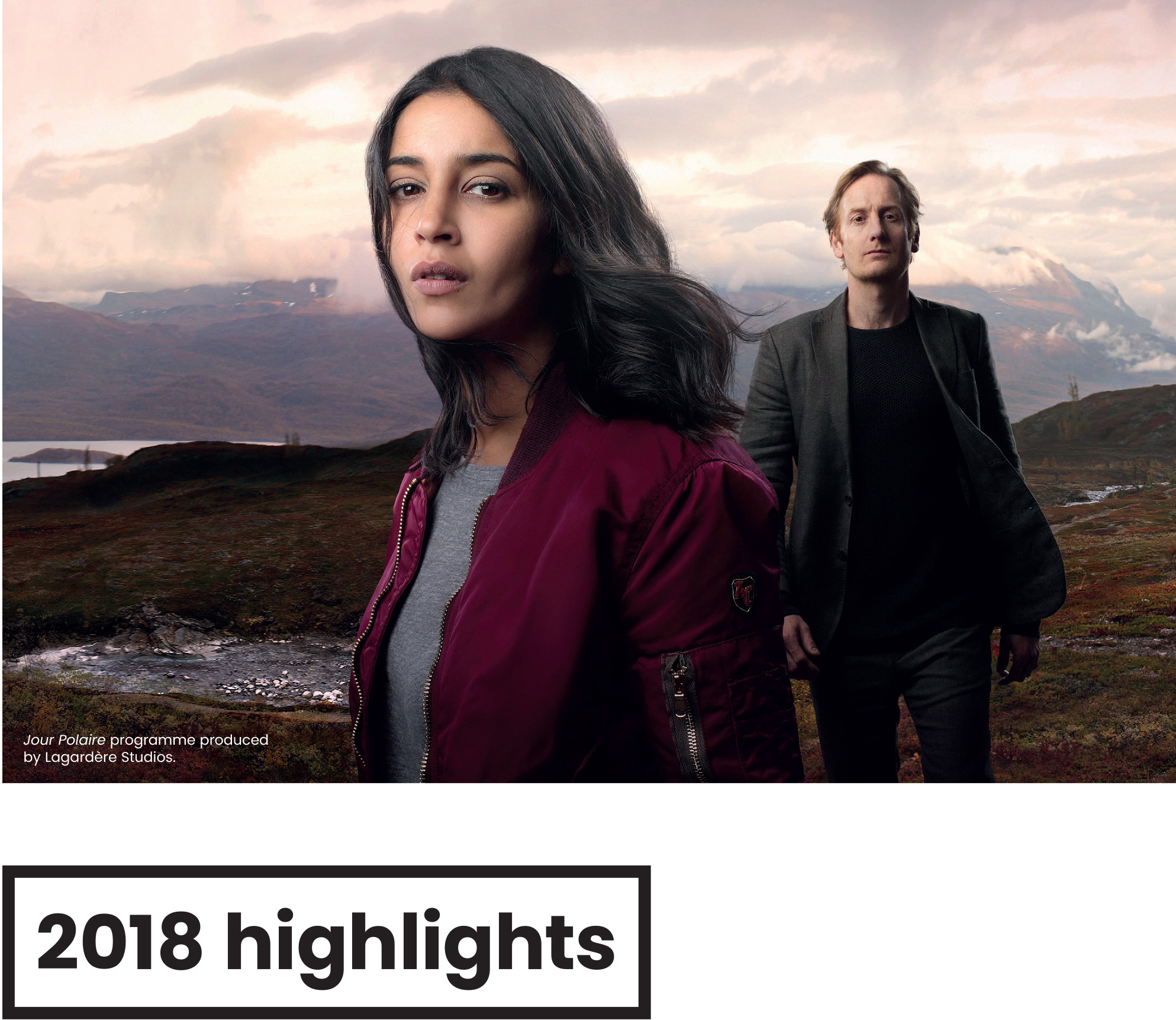 Rewards and international expansion for Audiovisual Production
In France, Lagardère Studios now ranks as the third-largest producer of drama, with more than 45 hours of original programming broadcast in prime time, and the second-largest producer of programmes for immediate broadcast, with over 820 hours aired on French channels.
In Spain, it is a leading independent audiovisual production group, with approximately 500 hours of programming delivered in 2018.
Already operating in France, Spain, Finland and Africa, Lagardère Studios continued its international expansion with the acquisition of Dutch production company Skyhigh TV in March 2018.
Lagardère Studios also won 18 awards for productions in France (including Jour Polaire and Ad Vitam) and internationally (including La Otra Mirada and Pirjo), plus two awards on digital formats. Several of its programs also logged record audiences, notably C dans l'air in France (2.2 million viewers on 5 February 2018, or 17.1% audience share) and Pirjo in Finland (3 million views on the Yle VOD platform).
Lagardère Studios will be sold in 2019 as part of the Group's strategic refocusing.
Success and records for TV
On 31 January 2019, the Lagardère group began exclusive negotiations with the M6 group with a view to finalising an agreement to sell the channels of its TV unit (excluding Mezzo). The activities of the TV unit will continue normally during the process.
The preeminent youth offering in France with Gulli, TiJi and Canal J, and France's top music offering with MCM, MCM Top and RFM TV, the Group's TV channels enjoyed great success in 2018. Gulli turned in a record-breaking year, with an audience share of 18.9% among viewers aged 4-10 and 16.4% among those aged 4-14. Also operating in Russia, French-speaking Africa and 18 countries in the Arab world, the favourite channel of families for its youth programmes reached 28 million viewers in France on average each month in 2018. In addition to revamping GulliMax, its unlimited SVOD zone, Gulli continued its non-media diversification (Gulli Parcs, touch tablets, etc.) and partnerships (notably Le Salon du Chocolat Junior).
At the same time, the music channels attracted an average of nearly 5 million viewers each month in France, and Elle Girl TV 2.2 million.
Meanwhile, Mezzo started broadcasting in Japan and produced 350 hours of co-productions. It is now broadcast in more than 54 million households and nearly 60 countries. The benchmark for classical music, jazz and dance, it has stepped up the number of live performances broadcast from the world's pre-eminent theatres, including La Scala in Milan (Italy) and the Bolshoi Theatre in Moscow (Russia).
The group's key figures
2018: solid growth illustrated by a strong operating and financial performance.
Publications


All publications