Giving meaning
Which new vision should a company adopt? Which other missions should a company have? Which specific role should a company play in society? These have been key questions for governments and businesses in recent months and, more than ever, they resonate with Lagardère's desire to give meaning to its activities.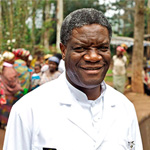 ELLE Foundation: Dr Denis Mukwege, 2018 Nobel Peace Prize winner
"In my country, women's bodies are the battlefield for war"
Learn more
The 2018 Arab Literature Prize
Omar Robert Hamilton wins the 2018 Arab Literature Prize for his novel La ville gagne toujours
Learn more