Press releases
Merlin: a new twist to the legend every Thursday as of 7 April 2011 at 8:35 pm
on Gulli as part of its Destination Frissons programming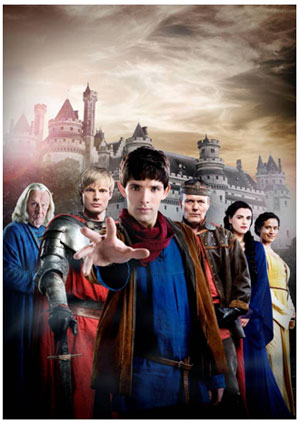 A new series on Gulli
Magic has been banned in the legendary land of Camelot, and anyone practicing it will be executed by the tyrannical Uther. The young Merlin must therefore keep his powers a secret on pain of death. He soon discovers that he is fated to watch over the future King of Camelot, Prince Arthur, a mission he fulfils under the guidance of a dragon, the only one to possess the secret of the prophecy.
This series breathes new life into the Merlin legend, making it a must-see for heroic-fantasy fans. With young actors Colin Morgan in the lead role and Bradley James as Arthur, this original version of the epic features guest star John Hurt as the voice of the dragon.
Filmed in Wales and at Pierrefonds Castle in France's Oise region, this first season features 13 episodes that include numerous computer-animated sequences produced by The Mill, the British team behind the special effects in Gladiator and the Doctor Who series.
A success on the BBC, which is currently broadcasting the fourth season, this series will now also be available on Gulli.
Technical data
Series: 13 x 52 min.
Production: BBC/Shine Television.
Starring Colin Morgan (Merlin), Bradley James (Prince Arthur), Richard Wilson (Gaius), Anthony Head (Uther Pendragon), Angel Coulby (Gwen), Katie McGrath (Morgana), John Hurt (The Great Dragon) and more.
Year: 2008.
Country: UK.
Broadcast on Gulli as of Thursday 7 April 2011 at 8:35 pm (two episodes) as part of its Destination Frissons programming.