Press releases
Be celebrates its first anniversay by exceeding its objectives and launching a pocket-size format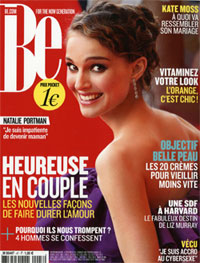 Be, a global up-market media brand targeted at women, launched in March 2010 by Lagardère Active, has confirmed its success:
as a magazine, with a paid circulation of more than 170,000 copies
as a generation-specific, multi-platform brand for women, with better-than-expected results.
- By year-end 2010, Be magazine had a paid circulation in France of 170,282 copies (source: OJD March/December 2010), representing some 10,000 more copies than were projected at its launch.
Be also managed to exceed its advertising objectives in 2010, with 17 pages of advertising sold per issue, increasing to as many as 21 pages during the last quarter.
To mark its first anniversary, Be will also be published in perfect bound pocket-size format as of 11 February.
The launch of the pocket-size format will be supported by an advertising campaign (across TV, press, billboards and points of sale) with a new tagline: "Be has the latest trends before anyone else".
- Be also boasts a successful on-line community:
Less than a year after its launch, the Be.com website has almost 110,000 active members.
And its iPhone application, an on-the-go link to the Be community, has registered a total of nearly 70,000 downloads.
- Moreover, its original TV series "Bienvenue dans la Ruche" (Welcome to the hive), aired on the June channel and on Be.com, has recently been expanded from a 6-minute format to a full 26 minutes.
Bruno Lesouëf, CEO of Publications Magazines Publishing Division France, commented: "Be has achieved its objectives in terms of community, circulation and advertising revenues. The creation of the pocket-size format, planned from the beginning, signals the final stage of Be's launch, in the critical high-end women's market, where we are looking to strengthen our leadership."