Press releases
The French network of Relay outlets: special summer operations!
In June, to welcome the arrival of summer, Relay launched an operation called "It's summertime, lets read!" (C'est l'été, lisez !). And, to accompany those heading off on holiday until the end of August, Relay is launching 4 other operations.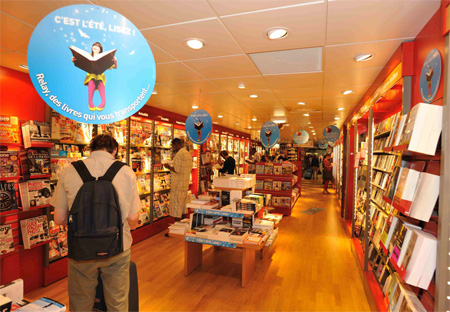 'Happy Holidays!' (Bonnes Vacances !) from 2 July to 22 August - 80 shops at SNCF railway stations and 75 shops in airports.
The teams will be wearing turquoise T-shirts printed with the French words 'Bonnes vacances!' and panama hats. They will also be given a booklet reminding them of the basics in good sales and the importance of quality of service. The upper section of the window displays will be decorated with stickers and plasma-screen animations wishing travellers a 'happy holiday'. What's more, in the stores at SNCF railway stations, a special holiday quiz (in French 'Le quiz des vacances' ) will be distributed: by answering the 3 questions about the SNCF and 3 other questions about the Relay chain, passengers can win an LCD screen, iPods, digital cameras, etc. Plus, when they hand in their quiz answer coupons, they will receive a free pair of sunglasses. Finally, a 'Big Drawing Competition' (Grand concours de dessin) will be organised; 18,000 coupons in French and over 10,000 in English will be distributed.
'Holidays are so cool!' (Trop bien les vacances !) from 30 June to 29 August Relay - 72 Relay outlets situated on the main holiday departure axes.
The aim is to target the flow of families to increase the turnover generated by children's products by concentrating all these products in one place and creating a fun atmosphere. The products concerned are children's magazines, books, sweets and toys. Special POS advertising supports will be developed including floor stickers, posters, hanging kits, cardboard cut out figures that youngsters can be photographed with, aisle labels, twisters and electrostatic decals.
'It's the summer of the children's press' (C'est l'été de la presse enfant) from 26 July to 8 August - 130 shops at SNCF railway stations and in airports.
The operation aims to increase the focus on the children's press titles commercialised by Bayard and Disney, which have joined forces for the first time to propose an exclusive discounted offer. The advertising approach will be as follows: exterior visibility with 60 x 160cm posters, interior advertising such as strip light cover advertising and aisle labels.
'Summer snack!' (Summer Pause !) from 2 July to 22 August - 144 outlets at SNCF railway stations and 23 shops in airports.
Relay launches a snack & drink offer to propose affordable refreshments for rail passengers. Exterior advertising will be installed exclusively in the SNCF railway outlets with kakemonos and plasma-screen animations. Interior advertising will also be installed in the SNCF and airport outlets with A4 posters behind the tills and special advertising next to the products concerned.