Press releases
Paris Match for iPad: already a commercial success with five advertisers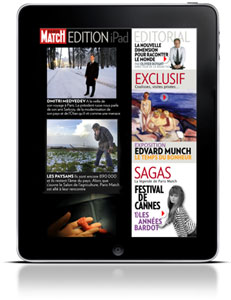 The demo iPad version of Paris Match, which has been available in the US since April 3, has been enhanced for the French launch on May 28. The new version covers not only news, but also culture, "Vivre Match" features and additional interactive elements that allow users to share with a friend, post to Facebook, send a letter to the editor and tweet.
The iPad edition of Paris Match has already proved a commercial success with five advertisers stepping up for the first six weeks, starting with Issue 0.
For the luxury sector, Lagardère Active worked with KR Media on a special campaign for LVMH, featuring Dior Couture's Lady Blue saga, Dior Parfums' Eau Sauvage, Fendi Couture and Guerlain's new perfume, Idylle.
Automobile manufacturer Fiat will also present the new Alfa Romeo Giulietta.
According to Constance Benqué, CEO of Lagardère Global Advertising, "As the ultimate media device, the iPad will be heavily promoted for its ability to deal with all advertisers' major issues, from branding to product demos. It opens the way for highly creative ads, and, as with its editorial content, offers a full palette of available ad formats that will gradually expand."