Cross-functional jobs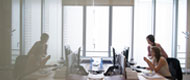 IT project manager
Role:
Performs feasibility studies for IT applications, monitors the development of the application from design to installation, in collaboration with users.
Analyses user needs, assesses the feasibility of projects.
Participates in compiling specifications and defining operational and technical specifications.
Supervises the development of the project.
Implements the technology watch.
Organizes the technical and human resources allocated to the project under his or her responsibility while optimizing costs, lead times, quality and service.
Coordinates and manages the engineering development team.
Performs the acceptance test (application test).
Provides user follow-up (development of functionalities, training, maintenance, documents) and ensures project communication.
Environment:
The IT project manager works as part of an Information Systems team and reports to the service manager. He or she works in close cooperation with operational staff and other Information Systems teams from his or her business division or the group.
Background:
IT engineer