Multimedia jobs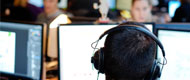 Multimedia Developer
Role:
Multimedia developers are involved in designing and developing new multimedia applications. They draw up specifications (page coding, database integration and so on) and produce multimedia applications by assembling and merging text, image and sound files. They may participate in the development of original technical solutions as part of a multimedia development project.
Environment:
Developers mainly work as part of a team in one of the departments in charge of our Internet sites. Projects are collaborative efforts between several developers led by a project manager, with each developer working on a separate part of the project. The team works in close partnership with the editorial teams of our magazines in developing the sites.
Background:
BTS (advanced vocational diploma) in IT.
DUT (university diploma in technology) in IT.
Engineering school in either IT or telecommunications.
Masters or DESS (post-masters diploma) in IT.