Advertising jobs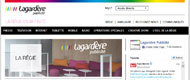 Head of Advertising
Role and tasks:
The role of the head of advertising is to promote the group's publications to advertisers:
Manages and develops a portfolio of existing clients (advertisers, agencies, media consultancies) by implementing proposals and/or various kinds of solution appropriate to often complex situations.
Uses meetings for canvassing in order to negotiate with new clients.
Maintains a special relationship with existing clients in order to retain loyalty.
Actively participates in public relations events.
Is responsible for increasing sales in line with his or her allocated budget.
Environment:
The head of advertising works with the director of advertising and is in continuous contact with agencies, in-house advertising departments and other advertisers. He or she works in close partnership with the marketing teams.
Background:
Qualifications: 4-5 years post-secondary education at a business school.
Experience: initial experience in an advertising sales firm, advertising agency or in-house department.
Personal qualities: solid knowledge of the radio/TV/Internet market and sound understanding of marketing (for understanding market research studies). Excellent interpersonal skills, an ability to analyze and good listening skills. At ease in a sales environment and in setting up financing arrangements.