Key Facts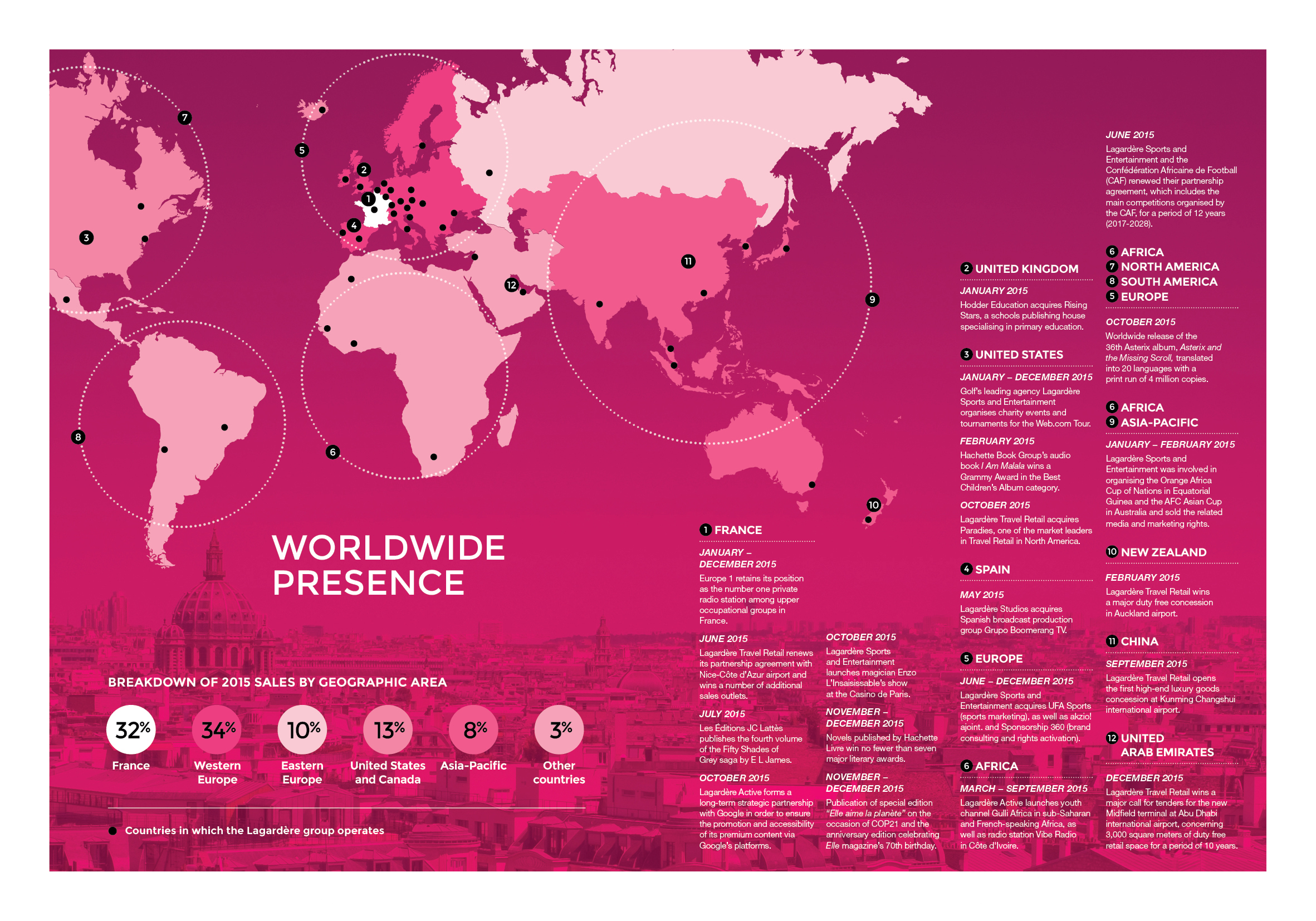 1- FRANCE
JANUARY− DECEMBER 2015
Europe1 retains its position as the number one private radio station amongupper occupational groups in France.
JUNE2015
LagardèreTravel Retail renews its partnership agreement with Nice-Côte d'Azurairport and wins a number of additional sales outlets.
JULY2015
LesÉditions JC Lattès publishes the fourth volume of the Fifty Shadesof Grey saga by E L James.
OCTOBER2015
LagardèreActive forms a long-term strategic partnership with Google in orderto ensure the promotion and accessibility of its premium content viaGoogle's platforms.
OCTOBER2015
LagardèreSports and Entertainment launches magician Enzo L'Insaisissable'sshow at the Casino de Paris.
NOVEMBER− DECEMBER 2015
Novelspublished by Hachette Livre win no fewer than seven major literaryawards.
NOVEMBER− DECEMBER 2015
Publicationof special edition "Elleaime la planète" onthe occasion of COP21 and the anniversary edition celebrating Ellemagazine's70thbirthday.
JANUARY2015
HodderEducation acquires Rising Stars, a schools publishing housespecialising in primary education.
3- UNITED STATES
JANUARY− DECEMBER 2015
Golf'sleading agency Lagardère Sports and Entertainment organises charityevents and tournaments for the Web.com Tour.
FEBRUARY2015
HachetteBook Group's audio book IAm Malala winsa Grammy Award in the Best Children's Album category.
OCTOBER2015
LagardèreTravel Retail acquires Paradies, one of the market leaders in TravelRetail in North America.
4- SPAIN
MAY2015
LagardèreStudios acquires Spanish broadcast production group Grupo BoomerangTV.
5- EUROPE
JUNE− DECEMBER 2015
LagardèreSports and Entertainment acquires UFA Sports (sports marketing), aswell as akzio! ajoint. and Sponsorship 360 (brand consulting andrights activation).
6- AFRICA
MARCH− SEPTEMBER 2015
LagardèreActive launches youth channel Gulli Africa in sub-Saharan andFrench-speaking Africa, as well as radio station Vibe Radio in Côted'Ivoire.
JUNE2015
LagardèreSports and Entertainment and the Confédération Africaine deFootball (CAF) renewed their partnership agreement, which includesthe main competitions organised by the CAF, for a period of 12 years(2017-2028).
6- AFRICA
7- NORTH AMERICA
8- SOUTH AMERICA
5- EUROPE
OCTOBER2015
Worldwiderelease of the 36th Asterix album, AsterixandtheMissing Scroll, translatedinto 20 languages with a print run of 4 million copies.
6- AFRICA
9- ASIA-PACIFIC
JANUARY− FEBRUARY 2015
LagardèreSports and Entertainment was involved in organising the Orange AfricaCup of Nations in Equatorial Guinea and the AFC Asian Cup inAustralia and sold the related media and marketing rights.
10- NEW ZEALAND
FEBRUARY2015
LagardèreTravel Retail wins a major duty free concession in Auckland airport.
11- CHINA
SEPTEMBER2015
LagardèreTravel Retail opens the first high-end luxury goods concession atKunming Changshui international airport.
12- UNITED ARAB EMIRATES
DECEMBER2015
LagardèreTravel Retail wins a major call for tenders for the new Midfieldterminal at Abu Dhabi international airport, concerning 3,000 squaremeters of duty free retail space for a period of 10 years.