2017 OVERVIEW
The new Relay concept has proved a great succes
Relay stores have increased revenue per passenger significantly after extensively refurbishing their stores in France and extending their offering to include new ranges of products and services over the last two years. The latest version of the concept has now been successfully rolled out in all of the countries where Lagardère Travel Retail operates.
Business is growing rapidly in new markets
In Switzerland, Lagardère Travel Retail won a major concession covering seven Duty Free stores at Geneva international airport, five of which opened in 2017. Moreover, in Saudi Arabia, the division opened Duty Free stores in three major airports: Riyadh, Jeddah and Dammam. As it already operated in Foodservice at Dubai airport, this shows that Lagardère Travel Retail is consolidating its interest in the Middle East.
In Asia, the division opened four Travel Essentials stores at newly refurbished airports in Phnom Penh and Siem Reap (Cambodia). In addition, Lagardère Travel Retail won the very substantial liquor and tobacco concession at Hong Kong international airport, covering eight stores in an area of 3,400 sq.m., in partnership with China Duty Free Group.
Lastly, in Senegal, the division opened two Duty Free stores and one Travel Essentials outlet at Blaise-Diagne international airport in Dakar. These openings represent Lagardère Travel Retail's first operations in Africa.
Lagardère Travel Retail won numerous tenders in 2017
In Foodservice, the division won a large number of new concessions: eight stores at Toulouse-Blagnac airport (France), three each at Venice and Rome-Fiumicino international airports (Italy), as well as seven foodservice concepts at Denver, Phoenix, Dallas-Fort Worth, Dulles, Palm Beach and San Francisco airports (United States).
Lagardère Travel Retail also considerably expanded its activities in Duty Free & Fashion, through the opening or modernisation of Aelia Duty Free stores in Geneva (Switzerland), Rome (Italy), Zagreb (Croatia), Prague (Czech Republic), Gdansk (Poland), Luxembourg, Lyon-Saint-Exupéry airport, Paris-Gare du Nord and La Réunion-Roland-Garros airport (France), Cairns (Australia) and Auckland (New Zealand). In addition, the division successfully tendered for the concessions to operate the Saint Laurent, Bulgari and Tiffany & Co brands at Paris-Charles-de-Gaulle (France), MAC in Belfast (Ireland) and Adelaide (Australia), and Victoria's Secret Beauty & Accessories at Amsterdam-Schiphol airport (Netherlands). Lagardère Travel Retail also opened a cosmetics and skin care store at Wuhan international airport (China).
Lastly, the division strengthened its positions in Travel Essentials in the United States (Phoenix, Louisville and New York-John F. Kennedy airports), France (Paris-Charles-de-Gaulle, Toulouse-Blagnac, Marseille-Provence, Lyon-Saint-Exupéry and Nice-Côte d'Azur airports), Germany (Berlin-Schönefeld airport and Cologne railway station), Portugal (Porto airport) and lastly the Pacific (Sydney, Melbourne and Gold Coast airports).
BUY PARIS DUTY FREE PROVES POPULAR WITH CHINESE TRAVELLERS

Chinese organisation Make a Better Choice, which specialises in customer satisfaction surveys, tested various Duty Free stores at 10 international airports using mystery shoppers. On the basis of the survey, Buy Paris Duty Free was awarded a score of 9.2 out of 10 for its excellent quality-price ratio, the atmosphere in its stores, its selection of products and their availability.


Buy Paris Duty Free store, Paris-Charles-de-Gaulle airport (France).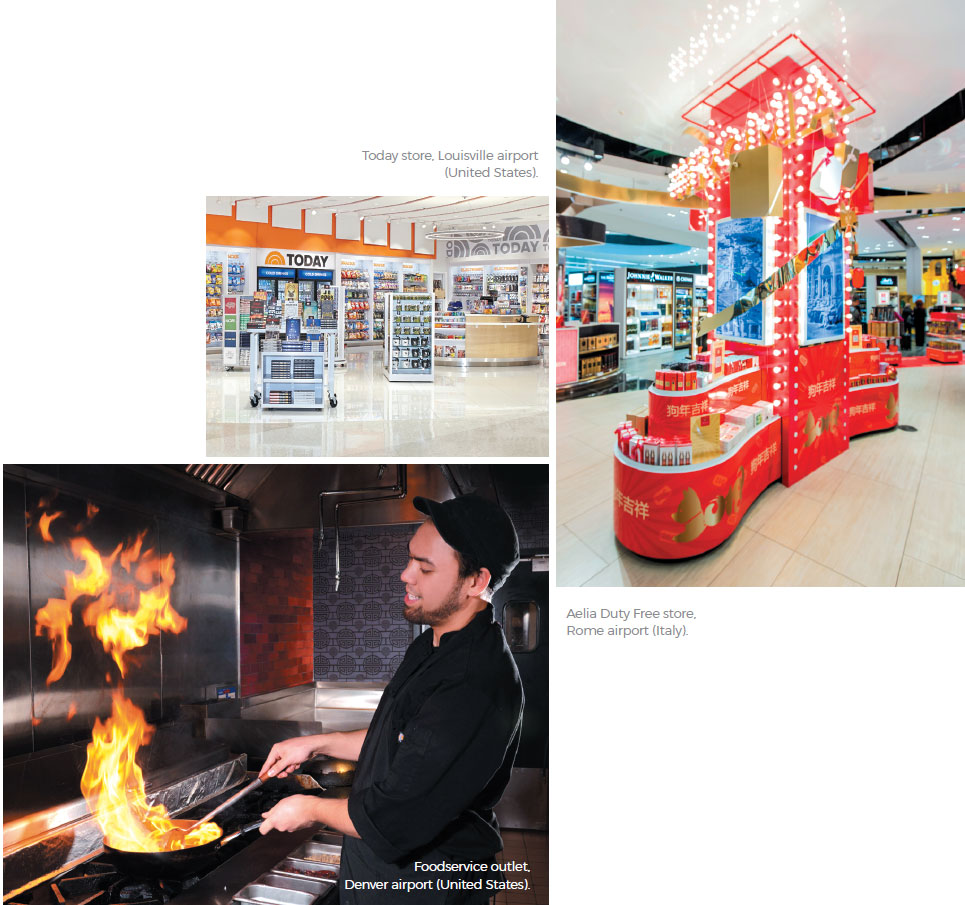 The group's key figures
The group's financial results demonstrate Lagardère's stability. Net sales, earnings before interest and tax, employees: access financial information about the group and its subsidiaries.
Publications

All publications