2016 OVERVIEW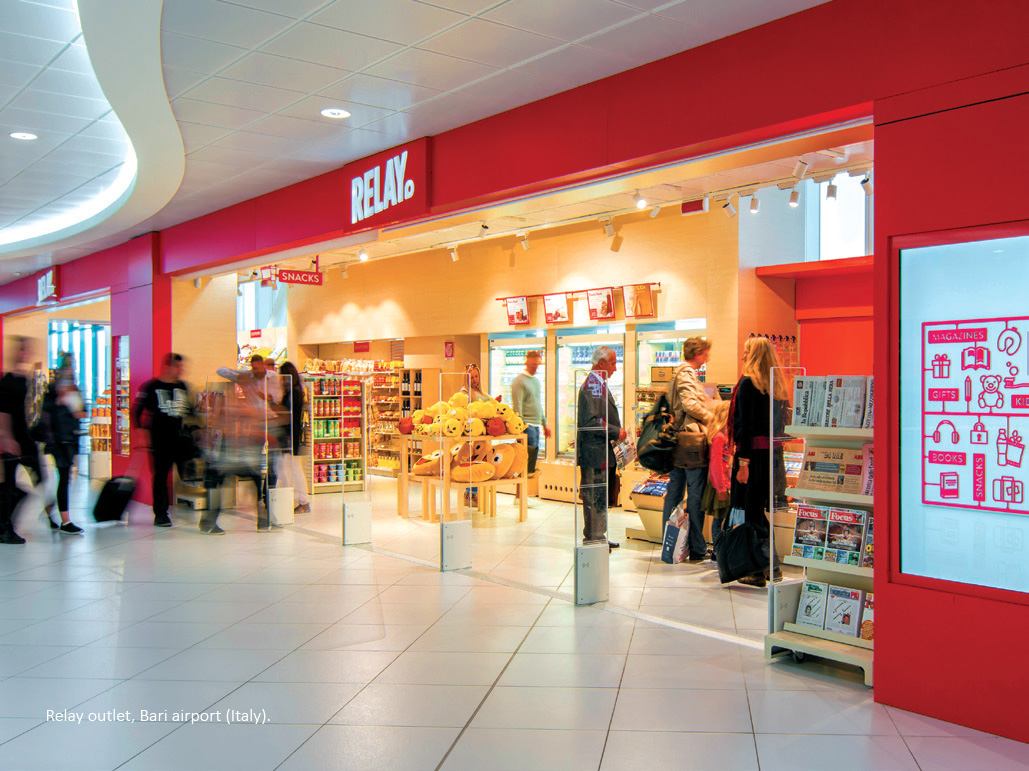 A MAJOR PLAYER IN RETAIL SERVICES IN TRAVEL AREAS
The preferred partner of licensors and major brands in travel areas, Lagardère Travel Retail is one of the world's largest operators in the sector, offering its expertise in its three main business lines, namely Travel Essentials, Duty Free & Fashion and Foodservice.
THE NEW RELAY CONCEPT HAS PROVED A GREAT SUCCESS
Relay stores have increased their revenue significantly after extensively refurbishing their sales outlets in France and extending their offering to include new ranges of products and services over the last two years. The latest version of the concept has now been successfully rolled out in all of the countries where Lagardère Travel Retail operates.
BUSINESS IS GROWING RAPIDLY IN THE MIDDLE EAST
The gain of the Duty Free & Fashion concession in the future Midfield terminal at Abu Dhabi airport in the United Arab Emirates was accompanied by three major concession wins in Saudi Arabia (Riyadh, Jeddah and Dammam), which are set to open shortly.
As it already operated in Foodservice at Dubai Airport, this shows that Lagardère Travel Retail is consolidating its interest in this part of the world.
THE DIVISION WON NUMEROUS TENDERS IN 2016
In Europe, North America, Asia-Pacific and the Middle East, Lagardère Travel Retail won numerous tenders in Foodservice, Travel Essentials and Duty Free & Fashion.
In Foodservice, the division gained a large number of new concessions: several stores including three outlets at the Avancorpo terminal in Rome (Italy), others in Bremen (Germany), Shanghai (China) and Sydney (Australia), as well as nine restaurants in Abu Dhabi (United Arab Emirates) on top of the three units previously operated, not to mention the famed Limon Rotisserie in San Francisco (United States). The division is also set to manage the Foodservice master concession at Kunming Airport in China.
Lagardère Travel Retail forges numerous alliances with major players in fast food. These partnerships enable it to expand - and diversify - the range of food it offers to customers. The division's varied concepts, renowned banners and ability to respond skilfully to tenders are all major assets when bidding for new concessions in an environment where airports worldwide are constantly raising the bar on standards.
Lagardère Travel Retail strengthened its positions in Duty Free & Fashion and Travel Essentials in Cairns (Australia), Phoenix (United States) and Edinburgh (United Kingdom). In addition, a second sales outlet, The Fashion Gallery, has opened at Changi Airport Terminal 2 in Singapore. The Group's subsidiary has also won the Travel Essentials and Duty Free master concession in Terminal 3 of Wuhan Airport (China).
In Europe, it won the master concession of Gdansk airport in Poland. In addition, Lagardère Travel Retail was awarded nine points of sale at Prague airport (Czech Republic), as well as several Souvenirs and Gastronomy concessions at the airports of Schiphol (four stores) and Eindhoven (two stores) in the Netherlands.
Lastly, the division will soon be operating the Duty Free & Fashion stores of the airports of Riyadh, Jeddah and Dammam in Saudi Arabia.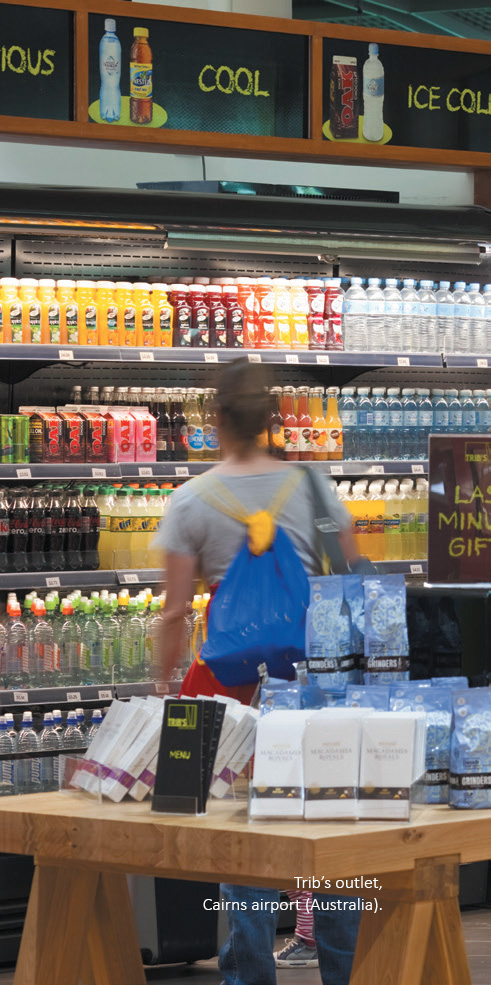 TAKE A BREAK AT TRIB'S: GOOD, SIMPLE AND FRESH!
This is a comprehensive and high quality fast food outlet offering a stylish, fun and modern environment in which to enjoy a quick break before taking your train, plane or metro. By combining self-service and assisted sales, Trib's offers consumers autonomy and variety, allowing them to take control of their time.

The group's key figures
The group's financial results demonstrate Lagardère's stability. Net sales, earnings before interest and tax, employees: access financial information about the group and its subsidiaries.
Publications

All publications