2017 OVERVIEW
A bumper crop of bestsellers
In broadly stable markets (down 0.8% in France (1); up 0.2% in the United Kingdom (2) and 1.9% in the United States (3)) Lagardère Publishing delivered revenue of €2,289 million, an increase of 1.1% compared with 2016, and recurring EBIT of €210 million (up €2 million) thanks above all to a bumper crop of bestsellers, and the division's ability to take advantage of the second year of curriculum reform in France.
As such, in France, after a first half dominated by election campaigning, the back-to-work period saw an exceptional harvest of literary prizes (Renaudot prize, Femina essay prize, French Academy novel prize, Medicis foreign book prize, among others), not to mention international bestsellers including Origin, by Dan Brown, and Astérix et la Transitalique. In addition, the textbook publishing houses - Hatier, Hachette Education and Didier - posted excellent results amidst curriculum reform affecting the first four years of secondary school, claiming first, second and fifth place respectively in the market.
In the United Kingdom, Hachette UK all but matched its 2016 record (when sales surged thanks to the release of Harry Potter and the Cursed Child), with no fewer than 122 titles on The Sunday Times bestseller list, 24 of which made it to first place (up 10%), and a textbook market share of 23.4% (up 1%).
It was a stellar year for Hachette Book Group in the United States, which saw 34 titles reach the top spot on The New York Times bestseller list, and whose quality was reflected in numerous literary awards, not to mention the presence of two of its titles in the 10 Best Books list published each year by the same newspaper.
In Spain, however, the division suffered from the end of curricular reform and a certain wait-and-see attitude in many regions.
Lastly, Partworks experienced a fresh year of growth, with 76 new collections and an impressive loyalty rate, particularly in France, Japan, Spain, Poland and Argentina.
Digital: a springboard for audiobook
In 2017, while the market share of e-books continued to decline in value terms in the United States and the United Kingdom, audiobooks experienced spectacular growth.

This success gathered pace as titles initially available on CD became downloadable on smartphones, thereby allowing pretty much anyone to listen to professional actors read a book while waiting at an airport, during a daily car or train trip, or when working out. To meet this demand, Hachette Book Group has set up two recording studios in its New York offices, and is preparing to open a third in 2018.

By offsetting the erosion of e-book sales, audiobooks stabilised the share of digital formats in market statistics, as well as in Lagardère Publishing's accounts.
(1)Source : GfK (in value).
(2)Source : Nielsen Bookscan (in value).
(3)Source : Nielsen Bookscan (in value).

OBAMA NOSTALGIA

Obama: An Intimate Portrait, the book of photographs by Pete Souza (the White House's official photographer) and published by Little, Brown and Company, has sold 320,000 copies. In addition, the author's Instagram account has become a forum for millions of people nostalgic about the former US president (www.instagram.com/petesouza).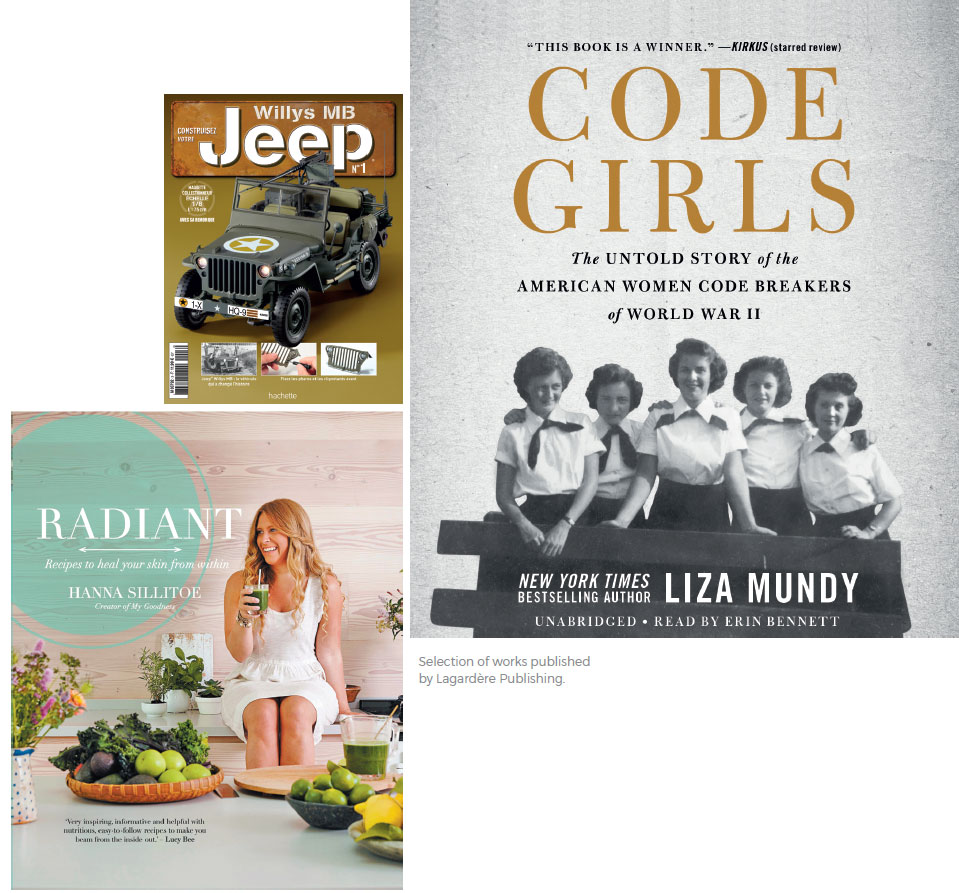 The group's key figures
The group's financial results demonstrate Lagardère's stability. Net sales, earnings before interest and tax, employees: access financial information about the group and its subsidiaries.
Publications

All publications