2017 OVERVIEW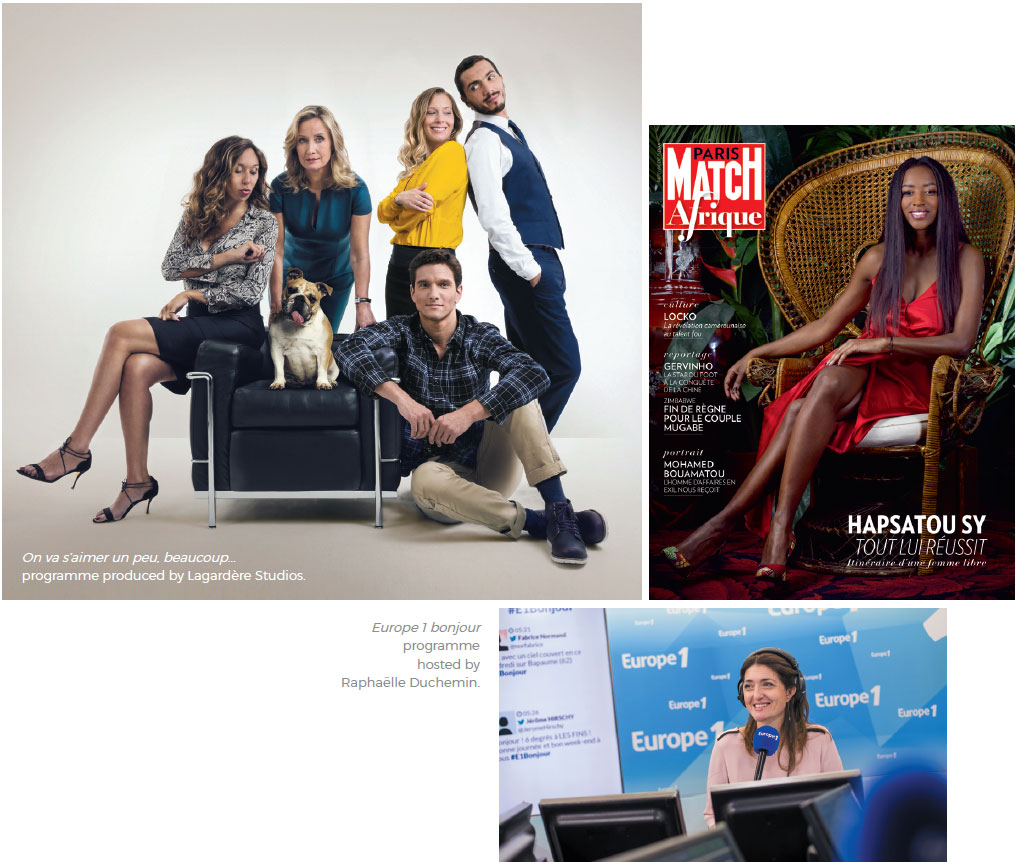 Success and international expansion for the Audiovisual division
Radio: RFM, which attracts 2.3 million daily listeners, confirmed its status as the top-ranking adult music station, boasting the best listening time for a music station in France (1 hour and 44 minutes). In addition, Virgin Radio logged 2.6 million listeners each day and established itself in Romania, while Europe 1 recorded 3.9 million daily listeners and repositioned itself on information, debate and entertainment. Lastly, with 23 radio stations in 9 countries, Lagardère Active Radio International recorded a cumulative audience of more than 12 million listeners each day.

Television: launched in 18 Arab countries, Gulli logged a record audience share of 17.8%, reaching an average of 29 million viewers aged 4 and over each month in France. In addition, music channels averaged more than 5 million viewers each month, and Elle Girl celebrated its first birthday. Lastly, Mezzo is now broadcast in South Korea and brought out 350 hours of co-productions.

Audiovisual production: Lagardère Studios, the leading independent audiovisual production company in France and Spain, produced nearly 2,075 hours of programmes in 2017, winning 30 awards and enjoying great success, including a record audience for C dans l'air (1.9 million viewers, or 17% of audience share). International expansion also continued apace, with the acquisition of the Finnish production company Aito Media Group.


Refreshed and diversified: powerful press brands
With new looks for Elle à Table and Public, a new layout for Version Femina, the launch of Paris Match Afrique and editorial triumphs, Lagardère Active's press brands reinvented themselves and performed well, especially Paris Match and Le Journal du Dimanche - voted Best Daily Press Title - which saw their circulation revenue increase.

The world's pre-eminent fashion brand, Elle once again organised the Elle Active forums and the Elle Run race, while also launching the Super Elle quarterly in China and the Elle Zen event in France.

Lastly, Art & Décoration celebrated 120 years of existence, while Elle Décoration's 30th anniversary issue generated record sales on newsstands (63,000 copies).


Record growth in digital activities
Elle.fr is the leading high-end women's press website, with 4.9 million unique visitors across all devices in October 2017.

The leading publisher on Discover, Paris Match saw its audience surge to 7 million active users per month. In addition, Public enjoyed a marked increase in traffic, logging 193 million visits in 2017.

Pure digital players also recorded impressive growth, with 2.5 million medical consultations each month on MyDocteur.fr and nearly 3.4 million tickets sold by BilletRéduc.

Lastly, Lagardère Active Radio International enjoyed a sharp increase in its digital audience, with 13 million unique monthly visitors and 58 million page views.
The group's key figures
The group's financial results demonstrate Lagardère's stability. Net sales, earnings before interest and tax, employees: access financial information about the group and its subsidiaries.
Publications

All publications